My Journey to Tokyo 2020
By Cayla van der Walt
How my horses and family have gotten me to where I am today.
My passion for horses all started with a pony ride at a carnival. I bet my parents didn't expect that innocent pony ride to turn into me making it to the 2020 Paralympics!
I started taking riding lessons at the age of 3 1/2. I was a Jumper until the age of 11 when I decided to try dressage after my horse, Ticket To Paradise aka Elliott, got injured jumping. I fell in love with Dressage and have competed in it ever since. I bought Elliott when we lived in the United States and we learnt dressage together. We had never done dressage before, so it was new to the both of us. In the years Elliott and I competed together, we achieved many great awards. When we moved back to South Africa in 2013, Elliott came with us. We couldn't leave him behind. He was family. In South Africa, we were always able to stay at the top of our class even as we moved up the levels. My little thoroughbred and I proved we could be just as good as the big warmbloods. He was my one in a million horse and I hope he is having a wonderful time on the other side of the rainbow bridge.
In July of 2016, I was diagnosed with Ewing's Sarcoma, a soft tissue cancer. The tumor was found in my left forearm around the main nerve that runs through to my hand. I went through 8 months of chemotherapy and 1 month of radiation upon moving, again, to the United States. I was lucky enough that we were able to catch it early before it spread anywhere else. Just before I started chemo, Christine Heathman, who has been our family friend for years and who I consider like a second mom to me, bought me a horse named Benji. Since I didn't have a horse of my own yet after moving back to the US, she wanted me to have a horse that I could ride and love while I was going through cancer treatment. I couldn't be more grateful toward her. During those 8 months, I tried to ride as often as my body would allow me. Benji became my escape from what I was having to go through.
Only 2 months after completing my cancer treatment in March 2017, I was back to competing and earned my USDF Bronze Medal within 3 shows on a borrowed horse named Major. His owner, Betty Briggs, was kind enough to let me show him as Benji wasn't show ready at the time. A few months later, I found out about Para-Dressage. Para-Dressage is for riders that have physical impairments. There are 5 Grades that a Para-Rider can fit into: Grade I (1) being for riders with severe impairments through to Grade V (5) being for riders least impaired. I was able to be classified as a Grade V Para-Rider because the cancer tumor left me with permanent nerve damage. I only have 1/3 of the strength and mobility left in my lower arm and hand which affects the way I can hold the reins and made me weaker, in general, on my left side. My reins had to be adapted to make them easier for me to grip, so the two reins on my double bridle have been connected into one rein.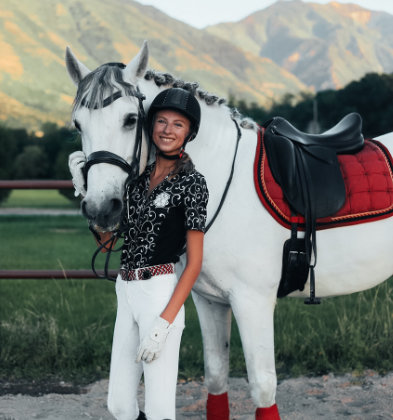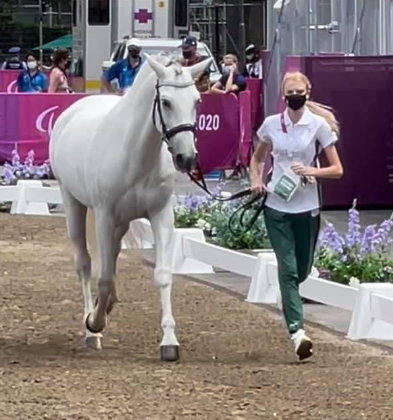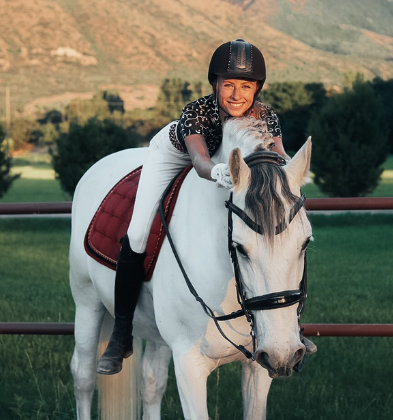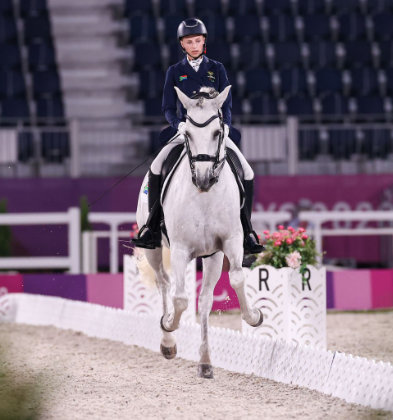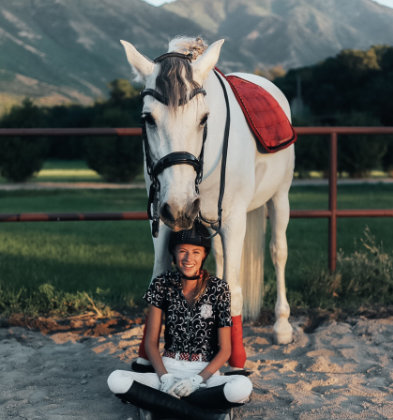 My current, and most amazing trainer, Trisha Bell, has been there for me even before my classification. She always try's her hardest to get the horse and rider to be the best that they can possibly be. She has become more than just my trainer; she has become part of my family. Prior to me owning my current horse, Daturo II, Trisha was training and competing him in Grand Prix for his previous owner. When Daturo went up for sale, Trisha thought he would be the perfect match for me in Para Dressage. She was right. He has been the absolute best and more. Thanks to Christine Heathman, my second mom, we were able to create Team Daturo.
Daturo is an Pura Raza Española (aka P.R.E.) gelding, imported from Spain by his previous owner and trained all the way through to Grand Prix. He has been my dancing partner and teammate for 3 years now. With Trisha's training, she has helped me to ride correctly and refined my dressage skills while riding Daturo. In the beginning, it was like getting into a sports car with all these fancy buttons and I had to learn what each one did. But slowly and surely, Daturo and I created a unique bond with each other and ever since have been unstoppable. Daturo has helped me in achieving goals that I thought may never happen.
Para-Dressage has opened up opportunities for me that I thought I would never get this early in my life. Through Para, I have met the most amazing people and have had some of the best experiences in my riding career. In a way, I can actually thank cancer for choosing me. It has not only made me stronger as a person, but made me appreciate all the small victories, especially all of the small victories that have lead up to my biggest victory yet.
For the past two years I have been working towards making it into the 2020 Paralympics. All the hard work Daturo and I have done, has finally paid off. I am actually living a dream I have had since I was little and that is making it to the Olympics or now, should I say, the Paralympics. This is the biggest victory I have achieved in my life. All of this would never be possible if it wasn't for all of the people and horses that have taught me through the years and I will forever be grateful to them. I'm especially grateful for my parents who have not only helped me emotionally and financially, but also put a lot on hold for shows and training opportunities. I guess my biggest thanks though, must really go to the pony from the carnival. You were the start to this all.